Visited Location: 395 Hudson St @ Clarkson St
Dunkin' ... Deli?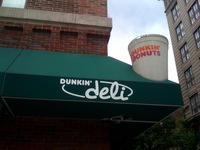 That's right... It's the strange result of Dunkin' Donuts owning the Togo's chain of sandwich shops, which has free-standing locations on the West Coast. Here in the East, Togo's apparently was dual- or triple-branded with Dunkin' Donuts and Baskin-Robins. In the late 1990s the name "Dunkin' Deli"
replaced Togo's
in these locations.
Dunkin' Donuts acknowledges the Deli brand's existence in the
nutritional information
section of its website, but otherwise makes no mention in its
store locator
or
brand history
sections.
Strange history aside, Dunkin' Deli's are extremely rare in New York City. Since not searchable on Dunkin' Donuts' site and not accurately separately listed on Google Maps and Yelp, it's anyone's guess to how many of these locations exist in New York City. I've personally been to over 50 Dunkin' Donuts in this city, however, and I know of only one: 395 Hudson St @ Clarkson St.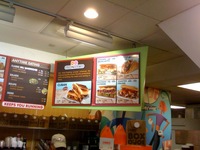 From the outside, apart from some Dunkin' Deli labeling, this looks like an average Dunkin' Donuts. On the inside, for the most part, this still looks like an average Dunkin' Donuts, especially now that practically all Dunkin' Donuts' offer hot food items. However, the menu board is extended to include the deli sandwiches, with selections such as a
Chicken Bruschetta Sandwich
and a
Turkey and Bacon Club Sandwich
.
There are multiple bread selections, such as white, wheat, and flat. Toasting appears to be the norm as do onions on sandwiches where you might expect someone to want them. Unlike Subway and Quiznos, personalization of toppings is not encouraged, with order reception taking place at the coffee counter, fulfillment in a separate area separated off on many sides by a solid wall, and delivery occurring from a window labeled "Sandwich Pickup".
I've had both the chicken bruschetta and turkey/bacon club sandwiches. Both had the hot toasted taste of Quiznos, and both were loaded with onions. The tomatoes on my recent turkey/bacon club had no flavor.
One important last item of discussion is price. Dunkin' Deli is not particularly competitive priced, with the small sandwiches priced around $4.99 and the large around $7.99. The small sandwiches come nowhere near in size to Subway's five-dollar footlongs, so lunch here is certainly not economical.
While not inexpensive, an occasion meal from Dunkin' Deli provides a welcome, more flavorful alternative to the suite of subs from Subway.