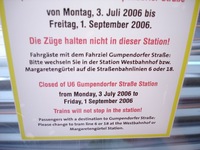 I see so many ridiculously hilarious signs and posters in Vienna on a daily basis that I've decided to start a series on this very topic right here on my weblog.
My first sign is this sticker that was posted in nearly every metro car here in Vienna, as well as many buses and trams that would be affected by the subject of this sticker.
Basically, Gumpendorfer Straße, a stop on the U6 metro line is closed all summer for renovations. This message in German was translated into English as "Closed of U6 Station Gumpendorfer Straße"! Apparently the Wiener Linien (Vienna Transit Lines) didn't consult a native speaker or expert of the English language to translate this message!
After a nearly-full rollout, corrected stickers began showing up, that, didn't simply change 'closed' to 'closure', but rather rephrased the entire sentence to "U6 Gumpendorfer Straße Station will be closed…"
Almost all of the original stickers have been replaced, but I occasionally still encounter them.