Scanning the NYC Bike Map recently, I came across Cunningham Park in Queens, which has a big blurb on the map regarding mountain biking. I own a mountain bike, but, much like the Jeep owners that never experience much more than a pothole, I had never really taken advantage of the fact that I owned a mountain bike. In fact, I had obtained more road-worthy tires and over the past few months even considered buying more of a road bike.
Nevertheless, I thought mountain biking could be fun, so my next task was to figure out how to get there. Cunningham Park is in a far corner of Queens, not far from the Nassau County border, but, thankfully, it's also not too far from the F-Train's terminus at 179th Street and Hillside Avenue.
Once you exit this huge station closer to the 180th Street side of it (there's even an elevator), you'll be facing a large residential boulevard called "Midland Parkway". This is the most official-looking entrance to a neighborhood called Jamaica Estates. In fact, Donald Trump grew up on this "parkway"[*].
Midland Parkway doesn't have a bike lane, but honestly, it doesn't really need it. It has one very wide lane in each direction and on-street parking that's barely used. You'll pass some grand houses including one that even has a sizable waterfall trickling down the front yard. Midland Parkway will take you to 188th Street, which, while not as nice to ride on, didn't appear to have too much traffic on the Sunday that I tried it out. Taking a left and heading north, you'll quickly reach 73rd Avenue, which has bike lanes in each direction.
I love the streets in Queens. They're ridiculously wide, often with medians, an indicator they were built with traffic in mind. Taking a right on 73rd Avenue, you'll soon reach an overpass at 199th Street. This is not a railroad or even an active expressway, but rather the world's first highway built exclusively for motor vehicles. It opened in 1908 but was already severely outdated soon after and closed in 1938. It went by the names Vanderbilt Parkway and Long Island Motor Parkway and stretched from roughly around here to roughly around Ronkonkoma out in the middle of Long Island.
All this is relevant because the portion that remains in Queens is essentially a limited-access bikeway (ok, pedestrians are allowed too). You could even call it Queens' version of Manhattan's High Line… except with bikes, less landscaping, and forest.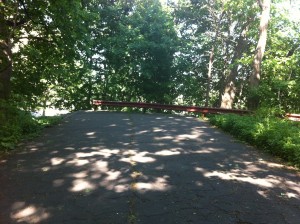 You can enter this bikeway half a block south in a patch of Cunningham Park and you can use it to head east towards the mountain bike trail. You'll head over some overpasses,  weave through some sections of woods, and cross under the Clearview Expressway in a tunnel. Then you reach a straightaway that can take you two miles east to Alley Pond Park before abruptly ending at a missing bridge (there is a way out through the park there though).
I did this slight extra trip and it was rather fun heading over overpasses, under expressways, and through long stretches of forest. I then U-turned and bike back to an intersection close to the Clearview, which is an unlabeled 210th Street (you can see the street sign at a nearby road intersection if your eyes are good enough)
210th Street is another ridiculously wide residential street that will take you over to the trailhead of the mountain bike run (intersection of 67th Avenue).
You'll see a sign for the trails that has all sorts of warnings, rules and etiquette on it. It also has a map. Glance at it and then get going into the woods.
The trails are decently marked, but it's easy to miss a marker. I had originally intended to do the "less difficult" loop through the park, but sometime after cross the Clearview Expressway I found myself on a "more difficult" trail. At first some of the obstacles seemed a little daunting, but I quickly got used to them. In fact, there weren't many. The route I took was mostly about winding around trees, climbing small hills, dropping into small valleys and then repeating again. I had some difficulties with some of the steeper hills since the tuning has been off on my bike and I can't even get into the lowest gears.
Overall it was a lot of fun and I was exhausted much quicker than I thought I would. After less than three miles of actual mountain biking (the course has around seven miles), I found myself back at the exit and searching my phone for the nearest deli to obtain some Gatorade. Luckily, there's a little business district not far away, at the corner of 215th Street and 73rd Avenue.
After picking up a Gatorade at a tiny stationary store (there's also a CVS and a kosher deli), I made my way back to the F-Train. I could have actually stayed on 73rd Avenue (that's the one with the bike lane, remember?), but I decided to give that "motor parkway" one more shot and re-accessed it on 210th Street. Around three miles later I found myself back on the subway, exhausted but satisfied.