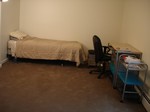 I flew back to the States on Tuesday. It was quite uneventful. My last weekend in Vienna was great, thanks to Kerstin, Tom, Oliver, Stani, etc.
Wednesday morning I drove up to Syracuse to check out my new apartment. It is great. The only problem was that it was hot as hell (89°F / 32°C as I later found out) in there, so I drove to Best Buy and picked up an air conditioner. Installing it hurt by back pretty badly, but now I'll at least be able to sleep when I'm in Syracuse.
I also drove out to Target, and strolled around the store. When I reached the back wall, I ran into Ardi and Liz. I knew Ardi was in Syracuse, and had already talked to him about meeting up later in the day, but this was quite the coincidence! I then went to the office and said I was available to work again starting August 22.
In the evening I met up at Starbucks in Fayetteville with Ardi, Liz, and one of her friends. After finishing our drinks we decided to go bowling at Erie Lanes or whatever it's called. We needed to pick up some socks since we were all wearing sandals, so we drove across the street to Target and picked some up.
The bowling place was closed, so I suggested Faegans instead. We had a drink at Faegans and then went home.
Thanks to my jetlag, I was horribly tired, and thus went to bed almost immediately.
The next morning I ate breakfast at Bruegger's at 7:30 (jetlag again), drove to Carousel, and then did some more rearranging in my apartment, before driving back to my mom's house.
The full photo collection of this trip can be found here. Unfortunately I didn't have my camera with me for the night out, but Liz took some photos, so maybe I'll get ahold of them and put them up later.