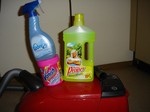 I've been cleaning all day. Well, that's an overstatement… You know me! But I've done quite a bit today, including washing and then hanging up a bunch of curtains, cleaning two windows, mopping about every floor surface in the apartment, taking out a lot of trash and cans, and cleaning the toilet.
I still have to do the dishes, clean up a bunch of junk lying around, and vacuum two carpets (and another tiny one).
My dad arrives at 12:35 tomorrow afternoon, so I'll have to see how I'll get it done and still get some sleep.