Today I and 45,312 other fans went to the SU / Boston College game. We won 39-14 and it was fun and almost worth the $17 for a student ticket!
Afterwards I hung out and helped intimidate the BC team and their fans. BC is switching to the ACC conference along with Miami and Virginia Tech, which sort of screws us over because that only leaves one good team to play from now on, West Virginia. So everybody made sure to tell BC that they are a bunch of traitors. Here are some pictures (Click on any to view it full sized and full quality):


SU attempts an extra point after a touchdown.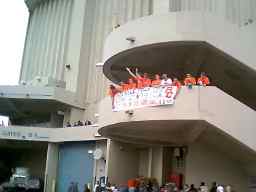 Some freshmen wait for BC to leave the Carrier Dome with a sign that reads "Farewell Tour '03 Don't Let the Door Hit Ya on the Way Out!"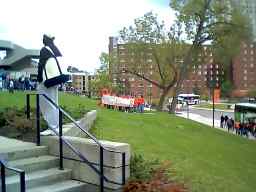 After finding out that the BC team was leaving through another gate, they rushed around and found them getting on their busses on the right. Sadler Hall (the red brick building) and Lawrinson Hall (the gray 21-floor tower) are in the background.