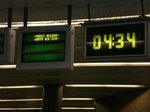 Ahhhh, the Wiener Linien... Perpetrators of two out of the three sightings involved in my "Lost in Translation" series so far. Here's the third, and possibly worst one! "Happy New Jear"!? Everyone knows this... Come on! You could have given all eight million plus Austrians a multiple choice quiz on this one and I bet you at least six million would have done a better job than the operators of the Wiener Linien's departure monitors!
There's not more to say about this one... Simply enjoy!
Oh wait... There is one more thing to note... The Wiener Linien have over 8,000 employees, and, together with its parent organization, Wiener Stadtwerke Holding AG, there are over 14,000 employees. Yep, it's quite an embarrassment that they don't have a qualified English language proofreader!
Photo Credit: Josef N Patoprsty