"Because Your Pool Should Be Fun, Not Work"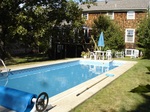 This was always the slogan of
Baquacil
, the chlorine-free pool care system my family has used in our pool since we got it over eleven years ago. Now their slogan is "Chlorine-Free, Care-Free." Yeah right. I think my parents have put about five times as much time into maintaining our pool, then they ever swam in it. And they swim in it a lot! Pools are such a mess. It's always a huge sensation when our pool is actually crystal clear. And, sadly, this state hardly ever lasts more than a day or two. I drove down to get our water professionally tested at the pool place. We do this about twice a week. The guy who tested it and I joke about how our pool is cursed. I should probably go swimming. It's a wonderful 86°F (30°C) outside. I've been really tired these past few days. I don't know whether it's the jetlag or something else. And for some reason I'm writing in really short sentences. I give up, this post is going nowhere!