Green Day Part II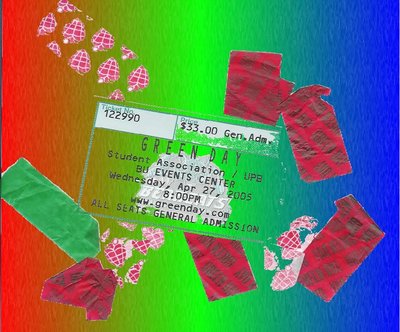 My random attempt at creating a collage of my ticket and confetti from the concert
This Wednesday, for the second time in six months, Gerry and I went to a Green Day concert, this time in Binghamton. The line there was insane, but Gerry and I cut into it about twenty feet from the door without a problem, which probably saved us a good 45 minutes.

The line outside that we didn't wait in... Because we're too old for that junk!
(Copyright Press & Sun Bulletin)
The opening band was My Chemical Romance, which was pretty bad live, just as Sugercult and Newfound Glory had been in Rochester. Green Day was insane again though. Nothing like a good bruising a week before exams!
There were also a ton of reminders for me about how I'm slowly but surely becoming an old man. As I looked around I couldn't help but laugh at the fact that about half the people there were under the age of six when Dookie came out eleven years ago. While they were watching Lamb Chop's Play-Along I was sitting in the back of the elementary school bus yelling out the lyrics to "Longview" at the top of my lungs!
Yet now we were all smashing our bodies against each other to the tune of "Jesus of Suburbia."
Read the Press and Sun Bulletin article (PDF File)
0 TrackBacks
Listed below are links to blogs that reference this entry: Green Day Part II.
TrackBack URL for this entry: http://www.newkai.com/mt/mt-tb.cgi/124