I was just thinking about how inefficient human beings are today. Especially the whole college system is a mess. This fact dawned on me tonight while back-archiving old weblog entries. During the summer I'll do nothing at all, but right now I have to work my ass off on a daily basis. Tonight I'll be getting four hours of sleep, while starting two weeks from and now I'll never be getting less than eight. What an abusive system. Anyway, I hope that made sense, as it is four in the morning right now.
Sunday night I went to see Snoop Dogg in the Carrier Dome. There was a lot of waiting, but the show was really good. By the time I went to bed that night I had been on my feet for nearly all of the 22 hours I had been up, and I had walked over 9.1 miles (14.6 kilometers), a figure which I pulled off my pedometer.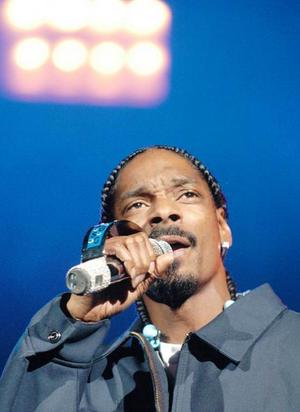 Snoop at the Dome (Media Credit: Thao Nguyen)
This past day, Monday, I accomplished absolutely nothing. Today, Tuesday, is my last day of classes. Now it's time for some sleep.