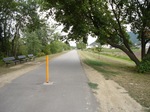 This past day I actually took advantage of summer. I swam for a bit and then biked a total of four miles (6.44 km) in 20 minutes on the Vestal Rail Trail.
After eating at Subway I drove to Staples to look at chairs, and then to Target to pick up some shade mounts. Apparently we're too upscale at Target to carry shades and shade accessories. We only sell curtains and curtain accessories. When I found this out I realized I'd have to go to the most dreaded store in retail… Wal-Mart.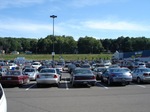 You've got to love 24-hour operations! Tonight they were tearing up the floor with a jackhammer-sounding device and moving entire aisles on wheels, and thus randomly zoning off sections with caution tape. At one point I walked down an aisle only to find out I had just been boxed in by caution tape on three sides, with a rapidly-disapearing exit.
I eventually found the shades section, and their were two interior mount sets left (62 cents each). I picked one up and made my way through the maze of confusion to the front registers.
I suppose it was a more exciting afternoon/evening than staring blanking into my laptop screen!
Tomorrow I'm heading up to Syracuse and back for a third time in nine days. I'm bring some more stuff up and assembling a few things. Then, at around 2:30, I'm picking up my dad at the airport, who's flying back from Scotland today.